Earlier this week, I drove our dining room chairs to the upholstery shop. We bought this used solid oak set around 20 years ago. It was so well-built, I knew a simple re-upholstery job would keep it alive for many more years.


Time had torn the fabric, but the bones were good.


Admittedly, the whole project cost more than purchasing a new set. At the same time, there was such value in the original product. It was worth salvaging. Plus, it was a beautiful way to bless a small business owner in our community.


Indeed, there is great satisfaction in shepherding something back to wholeness.


It seems, years ago, we lived in alignment with the restoration process. Tailors mended clothes, while cobblers repaired shoes. Simple but solid ruled the day. If something fell apart, there was a culture of recovery.


Are we still in tune with our culture of recovery and restoration?


As it turns out, restoration is not just for chairs. It is an invitation for so many areas of our life. Even if we try to remain grounded, balanced and healthy, our roads are bumpy and they gently jostle our calibrations over time.


Our engagement with our external environment (purging, simplifying, restoring) often lends a clue to what we are working out internally. Physical action frequently illuminates internal happenings.


It is mighty to step toward a vision before the vision comes into fullness. Inner work is not always a speedy process. But planting a seed makes a bloom possible.


After all, pockets of the world have been unraveling at the seams. This season contains daily invitations to recalibrate, reconcile, revive, bind, and mend. Have you noticed the unveiling of deep strife and division in the political arena? It appears to be extending its tentacles into social, religious, corporate, familial, and educational realms as well.


Our daily invitations to mend are invitations to sew stitches of shalom as Holy Spirit moves in, through, around, and between. It is the way to re-upholster our relationships. As we listen to life speak, we notice the opportunities within each day.


Although our stitches of restoration may feel insignificant, it only takes one tiny thread to bless what has been broken. Like turning the tide on something meant for harm into something good.


Now, if you are familiar with the craft of sewing, you know it actually involves ripping apart some seams or flaws that inevitably happen over time. For this reason, my seamstress step-mom always used to chuckle out the adage, "as you sew, so shall you rip."


Not quite the same as "sow and reap," but a reality for the craft. As it turns out, we often rip as we sew.


We rip through the "dis."


We rip through discouragement as we sew together encouragement. And we rip right through disconnection as we sew a spirit of reconnection or interconnection. Rip through dismember as we sew and remember. Or rip through a sense of dislocation as we sew into a grounded sense of belonging or relocation.


This is the path toward restoration.


Along those lines, we often think of restoration as merely a return to the original condition. We don't dream big enough. And yet, many times, our restoration's final state is even more remarkable than the original condition. The new fabric is somehow more resilient, the new product more comfortable.


What else can we do but express sheer gratitude when the second or third iteration is even better than the first?


But the restoration process is not always quick and painless. After all, the ripping or removing that precedes recovering and renewing is not easy.


At the same time, we need not be discouraged by the journey. Instead, we can be encouraged when repair is possible.


After all, restoration is truly a reflection of a solid foundation.


It is evidence the bones are good.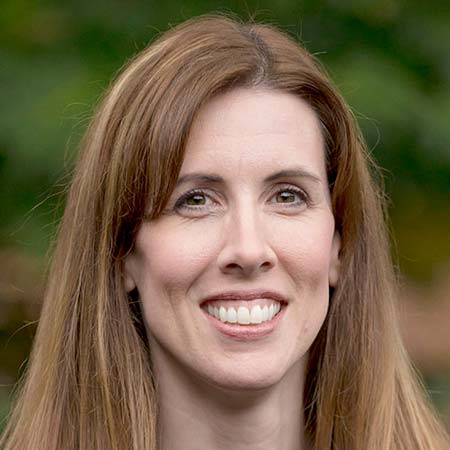 Jen Macnab

Jen Macnab enjoys living in Tigard with her husband and two daughters. Together they keep busy with a garden, outdoor clothesline, and backyard chickens. Jen also serves with the Seminary Doctoral Programs at Portland Seminary. https://www.jenmacnab.com