During the last local elections, I went to our neighborhood polling place. I waited in line, stepped up to the registration table, and gave my name to the petite, gray-haired woman smiling up at me from the opposite side. After locating me on her list, she trained her eyes back on me and called me by my name, Jennifer. Then, with a glint in her eye, she asked me a question.


"Do you know what your name means?"


Before I could answer, she said, "It means gracious gift from God."


I always thought my name meant Fair One, but who was I to argue?


I accepted the grace she offered, did my civic duty, and headed home. But the interaction lingered. It refused to leave me.


I asked Google the meaning of my name. Sure enough, it's Fair One. Just as I suspected. None of my searches turned up "gracious gift from God."


And yet, I cannot dismiss this. I dare not. This woman conferred a blessing on me, and I felt it when it happened. Something passed between us. I felt the holiness of the moment. Like bowing. Like bending. Like removing my shoes.


Right there, in the lobby of our local polling place, a gift was given on holy ground. I don't want to wear it in a haughty, "I'm God's gift to the world" kind of way. But the truth is, I am.


And so are you.


And what if we all knew this? What if it was conferred on each of us, regardless of our given names? What if we acted on it in humility, not haughtiness, offering ourselves to one another as gifts of grace? A gift, freely given for the benefit of the other.


I've been named a thing or three in my lifetime, and not all of them have landed like anointing oil or a kiss on the cheek. Some names landed hard, like a crushing weight pressing down. Some names have come from others. Some, off my very own lips.


There was a time in prayer when I saw these names, like labels, scroll across my forehead one by one. I experienced God's Spirit wiping them off, saying, "That's not you. That's not who you are."


"Then who do You say that I am?" I asked God.


My elderly friend at the polling place has answered that question: You are God's gracious gift.


We live into our names. Too often in a negative way: unwanted, unworthy, not right, not enough. I want to live into this new name — to be a gift and a grace to those I meet. And I'd like to call others to do the same.


What if we went around naming one another as good? As gifts? And what if we received each other as the good and gracious gifts we are? What then? What if that was the label we saw blazoned across those we met each day? What if, each time someone came our way, our spirit would inwardly jump up and down, saying, "Here comes a good and gracious gift"? Can you imagine?


A man from Kansas heard this story I'm telling you here, and he set about making wooden coins emblazoned with "God's gracious gift." He and his wife were eating in a restaurant while vacationing in Colorado when he struck up a conversation with a woman at the next table. A woman, he learned, who was transporting a young girl to safety. A young girl, he learned, who had just been rescued from trafficking. Reaching into his pocket, this man pulled out one of the coins he had made. And right then, and right there, he named this shamefaced girl: You are God's gracious gift.


A pastor couple from Virginia visited this man in Kansas, and they talked about this story. He sent them home with 30 of his coins, which they, in turn, gave to each of the youth in their church, naming them as so very good in this often tender and trying age.


We are, each of us, God's gracious gift to the world.


I have a sneaky suspicion that, had I stuck around the polling place a little longer, I would have witnessed that sweet old lady endow each one who came her way.


I can hear her now: "What's your name, dear? Amanda? Martin? Zelda? Phyllis? Peter? Do you know what your name means? It means gracious gift from God."


You are God's gracious gift to the world, not haughty but holy, given for the sake of others and the glory of God.


*Select portions of this blog are from a column I wrote for Anabaptist World magazine and are reprinted with their permission.*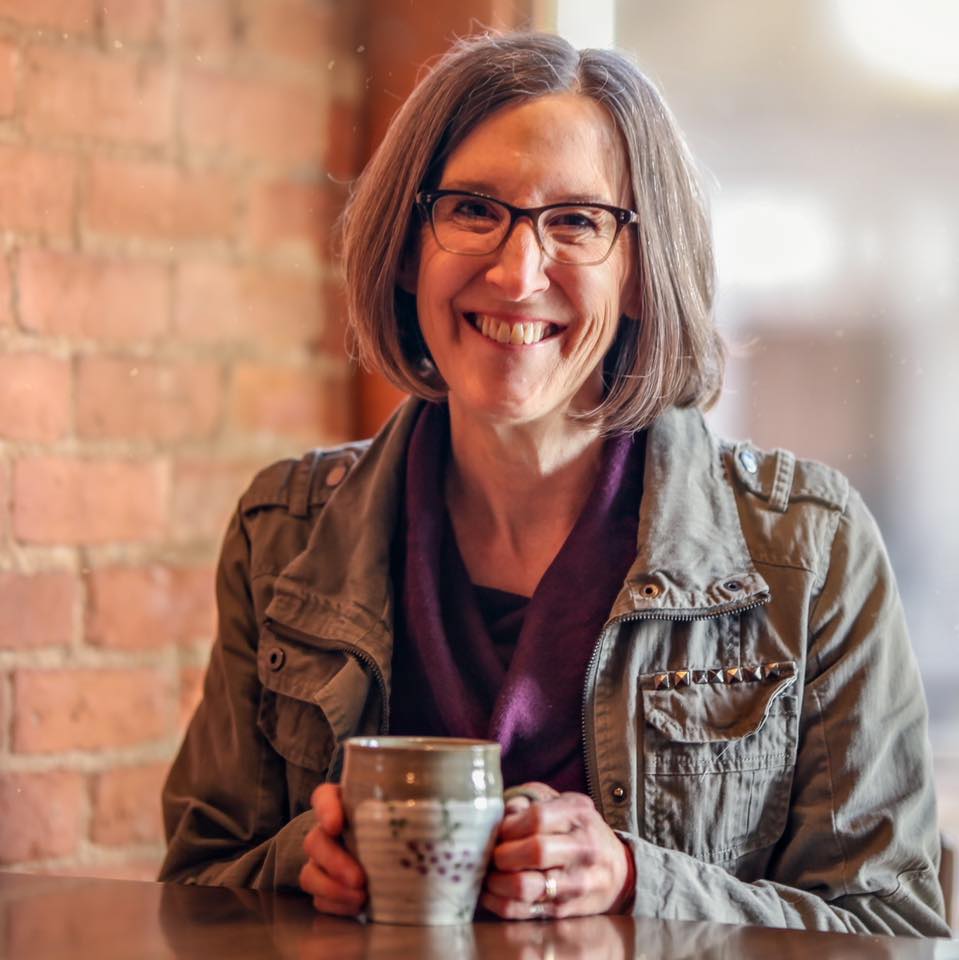 Jenny Gehman
Jenny Gehman is a freelance writer and retreat speaker, currently pursuing a certificate in spiritual direction. She was trained as a music therapist, but hospitality is her heartbeat. She is a firm believer in the wild, wide-open, warm-hearted welcome of God, our "Holy Host," and believes it is at God's table we are healed and made whole.Jenny lives in the Amish Country of Pennsylvania with her husband, son, and usually a visitor or two. She enjoys crackling fires, classical music, and chocolate of the darkest variety.
You can learn more about Jenny and sign up to receive her weekly Little Life Words by visiting her website:
http://www.jennygehman.com
.